Get A Free Instant Price Quote!!!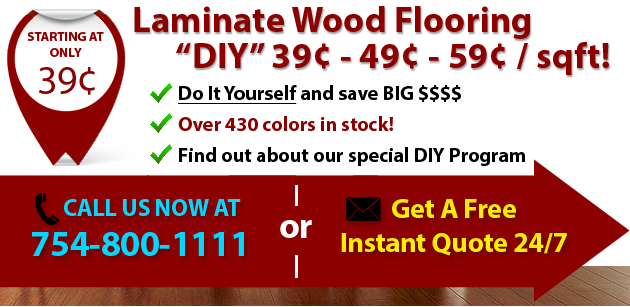 For all of you "Do It Yourselfers", read this and save BIG $$$$
LAMINATE WOOD FLOORING
"DIY" 39¢ - 49¢ - 59¢ Per Square Foot!!!
In stock over 435 colors
We designed a unqiue and special DIY Program, catering to all of you Do It Yourselfers.
We are the nation's leader in supplying hundreds of retail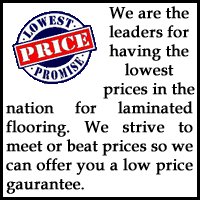 stores and lumber yards, worldwide. As the world's largest flooring liquidators...if you are a Flooring Installer, Contractor, Handyman, Homeowner, Landlord, Property Maintenance Manager...we have the A-Z Program designed especially for you. We have put together a package of Laminate Wood Flooring, 7mm or 8mm and sometimes even 10mm, the 3-in-1 Blue Silent Underlayment and all the moldings you need to complete your home, condo, storefront or office, for as low as $.99/sf for the complete package.

Professional Installers with Professional Results

If you need us to install the flooring for you, we are ready with an army of installers to install up to 3,000 square feet a day!

If you only need the Laminate Flooring...

If you only need the Flooring, we can accommodate you as well, with affordable pricing starting as low as $.39/sf for entry level flooring. Just check with Antonio for Large Quantity Pricing. Our Dania Distr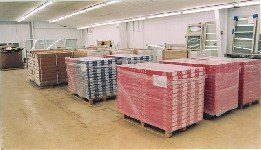 ibution Center is based in Southeast Florida and it's Florida's largest Flooring Warehouse that stocks more than 435 different decors ready for immediate pickup. We also carry, five different types of underlayment. Please click on the Underlayment Tab for more information.

We have relationships with all of the American & European Flooring Manufactureres like Kronotex USA, Quickstep, Shaw, Mannington, Dupont, Tarket, Armstrong, Kronoswiss Switzerland, and Eco-Flooring, our house brand imported from Germany, give us the power to give you the deepest discount in the flooring industry nationwide. We supply over 1,000 containers to Flooring Dealers worldwide a year.


The Flooring Liquidators

Call 954-253-7095 or 305-300-9009

New Warehouse Showroom Now Open To The Public:
5950 Anglers Ave, Ft Lauderdale, FL 33312

Open to the public by appointment:
Monday - Friday (8:00AM - 2:00PM)
Please call us in advance.
Saturday by appointment only (please call first).
You can also view the listing for The Flooring Liquidators (FL and U.S) 
 and the LocalAdLink Directory listed under the following categories: Retail Stores - Carpet & Flooring, Retail Stores - Outlets, Retail Stores - Surplus, Services - Handyman, Services - Home Remodeling & Repair.
We are  selling  laminate flooring  and install flooring  and  serving the following zipcodes: 33019, 33020, 33036, 33037, 33062, 33067, 33070, 33072, 33090, 33109, 33114, 33122, 33129, 33131, 33133, 33139, 33140, 33141, 33143, 33149, 33154, 33156, 33158, 33160, 33161, 33162, 33178, 33180, 33181, 33280, 33301, 33302, 33306, 33308, 33316, 33326, 33327, 33330, 33331, 33332, 33335, 33339, 33346, 33394, 33408, 33410, 33412, 33418, 33420, 33431 Miami flooring   Hollywood fl  flooring  palm  beach  laminate wood flooring  sale and installation